What are they and why do they matter? Coconut's Digital Marketing Manager, Ian Easton, brings the lowdown.
"It changes almost daily". Since time immemorial, this has been the message on the flux of SEO. When us Digital Marketers think we have a handle on it, kaboom – goalposts move. Rinse, wash, repeat.
Algorithms that drive, and ultimately dictate your SEO, are in a constant state of fluidity. This in turn means that optimising your content in order to rank first in the SERPs, is an ongoing task. With tech and algorithms that interpret and present search results changing over the past 18 months, solely optimising content to rank for long-tail keywords could now be considered as outdated. This goes hand-in-hand with changing human behaviour; need drives change, and vice versa. With this in mind, we must dictate the way we create and display content across our media-space, whether it be on our website, social media channels or blogs.
The Way People Search Has changed
Users want more exacting information. Search engines are becoming more systematic at providing exactly what users want. This has resulted in over 60% of searches now being four words or more. To find the exact information they are looking for, users use longer-form and conversational search terms – which runs alongside the advent of an increasing rise in voice search.
Siri, Google Assistant, Google Home and Amazon Echo are just a handful of devices trailblazing the ever-growing trend which has seen over 25% of mobile searches carried out via voice search over the past 12 months. Essentially, users are doing this in an ongoing effort to sort the wheat from the chaff when it comes to zeroing in on what they want. And what they want is: faster, slicker, more-targeted and more-refined content and information. To the point they tend to skim content; relying on headlines and truncated pull-out information to find the gist of what they need, so they can move on in their surfing journey.
Topic Clusters
This means the challenge for content creators, digital marketers and SEOs is to find more creative and concise ways of organising and presenting content so a user gains all the salient information they require from their source (your site). The most current and efficient way of doing this is through the topic cluster methodology.
Organising your site through the main topics you wish to rank for, with content including specific long-tail keywords which are hyperlinked and UTM-tracked to one another, means a broader and more-defining search engine authority. In a nutshell, your content can manage and address as many search queries as possible about said subject. A typical topic cluster content infrastructure would look like this: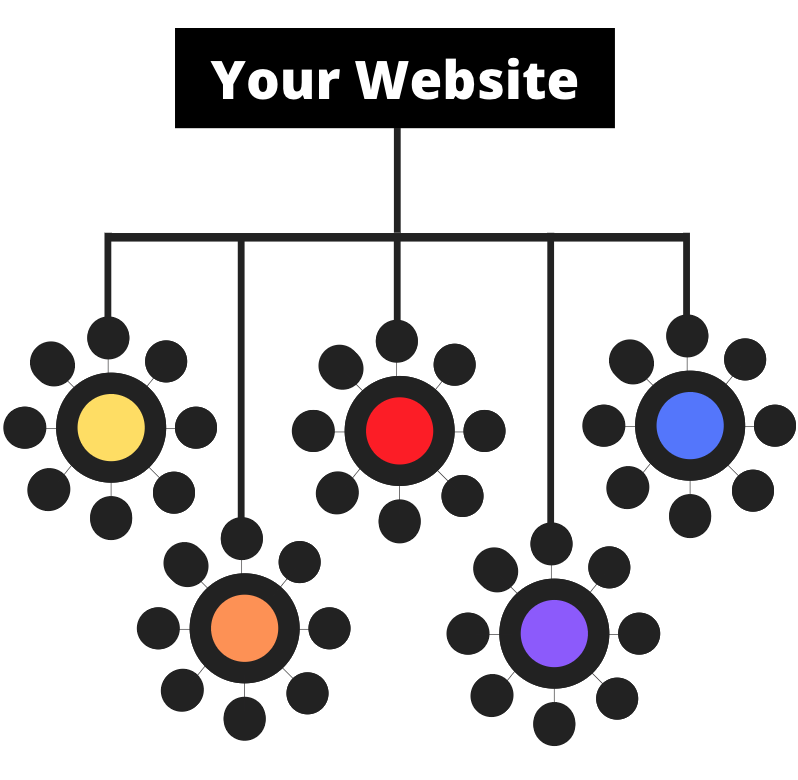 The Topic Cluster methodology creates a more-focused site structure/architecture which organises and intrinsically links all URLs, in order for more of your site pages to rank in Google. It also helps users find information on your site quickly, which is all that they want!
This website structure consists of three components:
Pillar Content
Cluster Content
Hyperlinks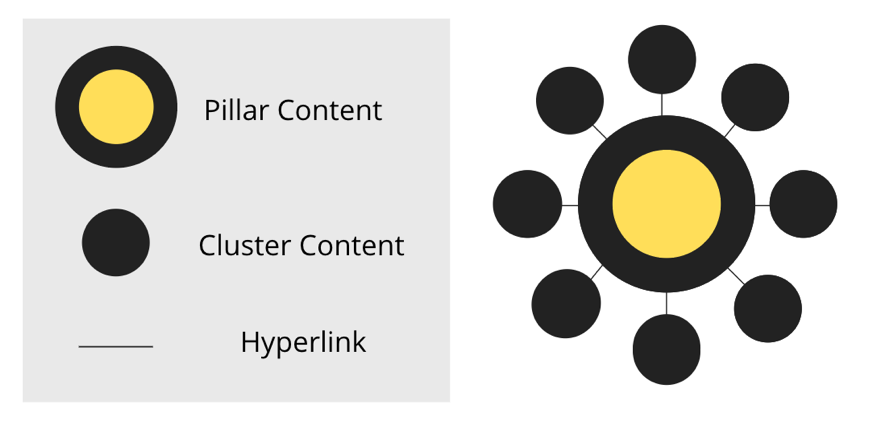 Pillar Pages
The Pillar Page method has been on the rise for the last 18-24 months and is the foundation on which a Topic Cluster is created. A Pillar Page is a repository of all aspects of a topic/subject grounded in one single "home base" page. This "home base" page then hyperlinks out to other supporting pages which detail any principal points of the topic/subject in more detail and depth. Pillar Pages cover a broad topic/subject and Cluster Content covers a specific keyword related to the broader topic/subject.
Pillar Pages cover a lot of ground. They offer more of an overview of the broader topic/subject, covering all aspects of it within the page. If users want to know more, they click the relevant section they require, and are then taken to a Cluster Content page with more in-depth information. Pillar Pages answer questions or queries a user might have about a topic/subject, making the user want to click on the page when they enter a search term, which the Pillar Page ranks for – ideally the related broad topic/subject. The Pillar Page then hyperlinks to Cluster Content pages to provide more comprehensive information. Again, this leads to a broader and more-defining search engine authority.
Pillar Page structure example: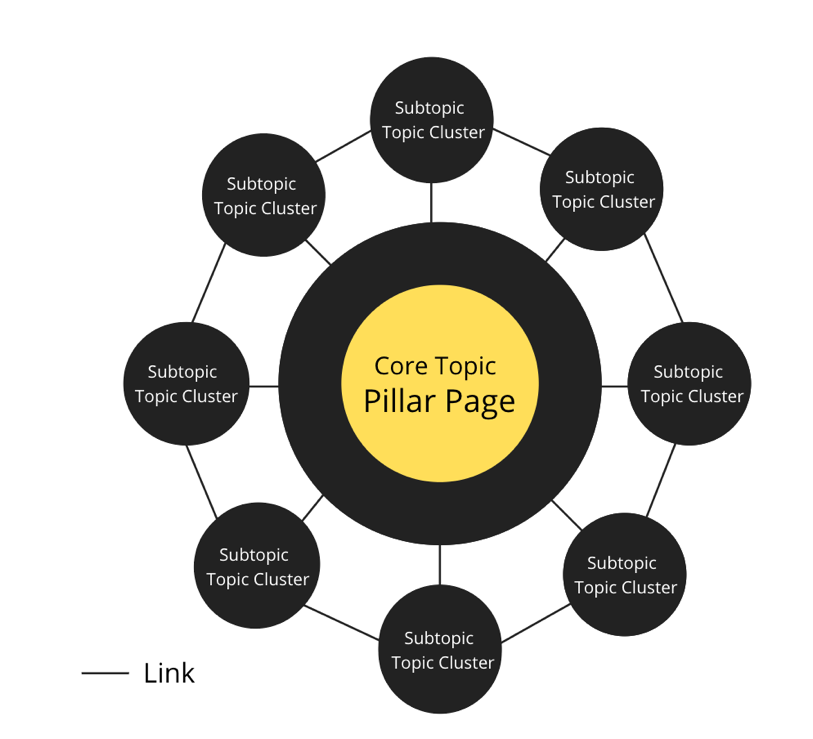 Think of Pillar Pages and the resulting Cluster Content as a spider bubble diagram for the architectural structure of the content within your website, social media channels and blogs. They are an efficient way for your content to rank and can be used when reverse-engineering your repurposed content too. Using Pillar Pages, you can comprehensively cover all aspects of your content, product, or solution in one highly optimised and organised content mini-matrix.
Now where's my Keyword Planner…
Enjoy creating!